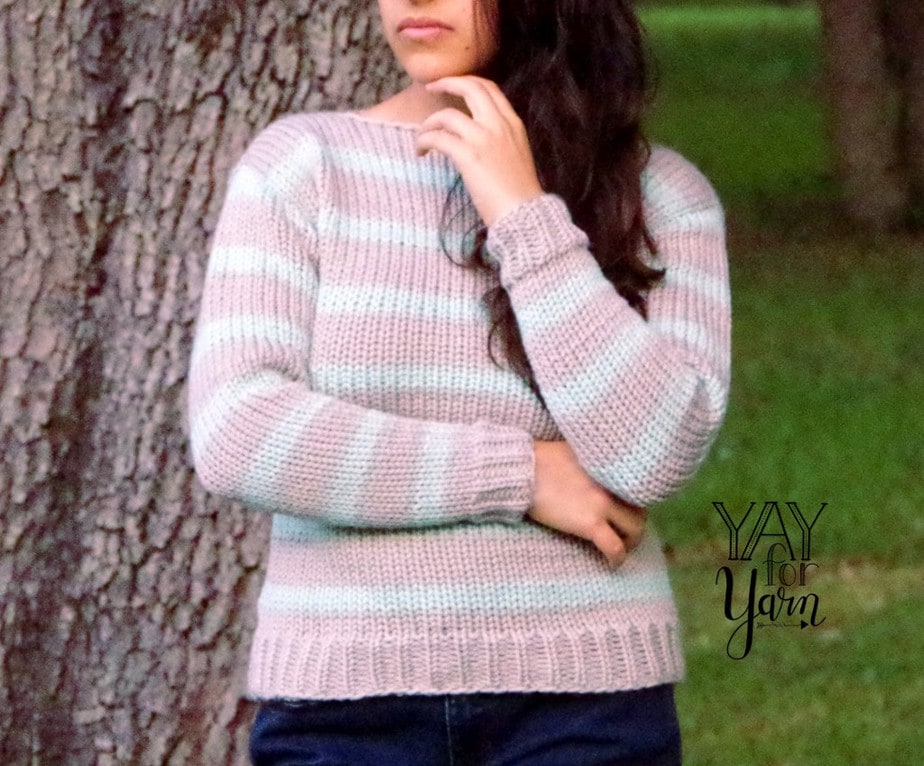 Addi Knitting Machine Pullover
PDF Knitting Pattern / Formula & Video Tutorial
$3.49 USD
Learn to knit your own Custom-Fit Pullover Sweater on your Addi King Knitting Machine!
PLEASE NOTE: This is NOT a row-by-row, detailed, written machine-knitting pattern. This is a RECIPE, an approximate guidelines and tutorial for how to make a CUSTOM-FIT pullover sweater on your Addi King Size Knitting Machine. The instructions will show you how to calculate sizing, stitch counts, row counts, and increases for your own custom, machine-knit pullover sweater.
Please note that this is a Large-Print, Ad-Free, Printable PDF version of a pattern that can be viewed for free, with ads, on my blog. For the free version, click here. Thanks for supporting YayForYarn!
You Will Need:
Addi Express King Size (46 Needle) Knitting Machine 
Approx. enough Yarn in the weight category of your choice for your sweater (I used #5 Bulky) (it's good to have extra yarn just in case)
Loom Pick
Crochet Hook (I used US size I / 5.5 mm)
Scissors
Measuring Tape
Yarn Needle or Blunt Tapestry Needle
You will need to know how to: 
Knit a Flat Panel on your Addi Knitting Machine 
Do a Long-Tail Cast On on your Addi Knitting Machine 
Knit Ribbing on your Addi Knitting Machine 
Work Increases on your Addi Knitting Machine 
Bind Off with a Crochet Hook on your Addi Knitting Machine 
How to Seam your Knitting with Mattress Stitch 
If you want stripes on your sweater, you will also need to know How to Knit Stripes on your Addi Knitting Machine
All of the video tutorials for these techniques are available on this page.
How Do I Access the Pattern?
As soon as your purchase is complete, you'll be able to access and download the PDF file for this pattern, and view the full video tutorial, ad-free, inside your Yay For Yarn Library.
Ready to Get Started?
Download the Addi Knitting Machine Pullover Formula Now