So, you've finally got some time to work on your latest knitting project. You sit down in your favorite knitting chair, pick up your needles, and start knitting.
You're beginning to make progress on your project, but after awhile, your hands are starting to get tired.
You want to keep knitting, because you enjoy it so much, but the stiffness in your hands and wrists are telling you to stop.
Sound familiar?
This used to happen to me all the time.
Hi, I'm Brianna, the knitter / blogger / yarn craft teacher behind Yay For Yarn.
With all the knitting I do for my blog, my hands often got tired and stiff after long knitting sessions. It was so disappointing when I'd have to stop knitting, even when my knitting time wasn't over yet.
I knew that doing too much of something that hurts your hands can cause permanent damage, also called repetitive strain injury. I didn't want to damage my hands to the point of not being able to knit anymore.
I tried looking for other knitting methods that didn't use large, sweeping motions or swiveling the wrist to make the stitches, but I never could seem to find a knitting style that was as ergonomic as I would like.
So instead, I created my own.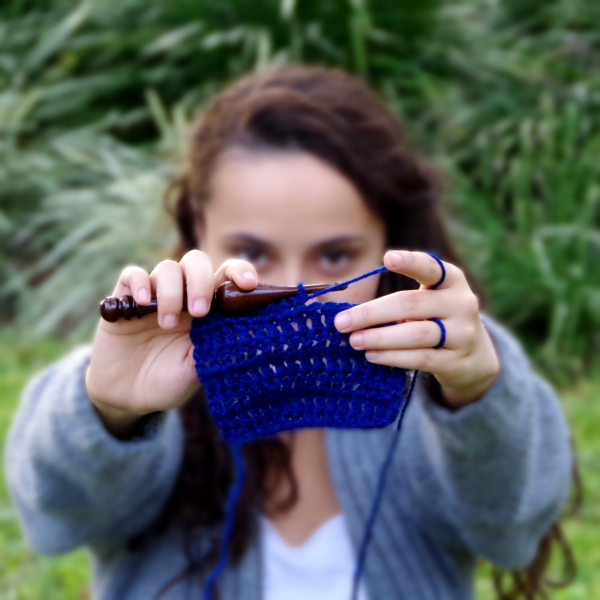 Introducing: The Ergonomic Speed Knitting Method,
My new, step-by-step video course that will teach you how to knit quickly, with minimal hand and wrist motion, to make your knitting as comfortable and efficient as possible.
Here are just a few things you'll learn in this course:
> The most natural, relaxed way to hold the needles and yarn,
> How to purl just as fast as you knit,
> The ideal types of motions you should be using to minimize hand strain while knitting,
> How to eliminate unnecessary motion for efficiency,
> How to knit and purl quickly without twisting the wrists, overworking the fingers, or dropping stitches,
> How to control your tension for consistent, even stitches,
> and much more!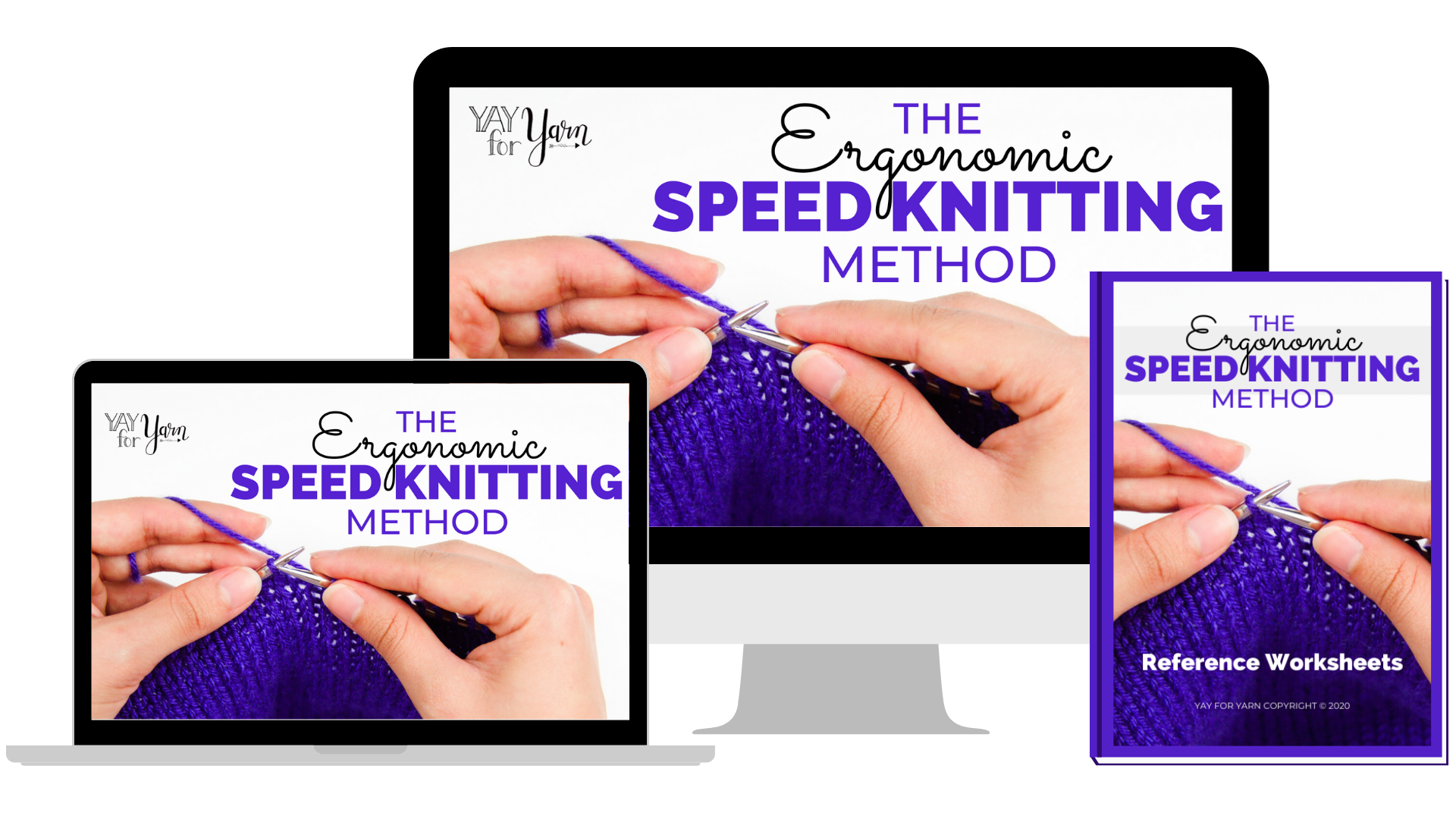 All of the techniques are taught in video lessons, with clear audio, high-resolution video quality, and detailed, step-by-step instruction.
The Ergonomic Speed Knitting Method includes 14 video lessons, with 2 hours of detailed video demonstrations. And if you need any help or have any questions, you can always connect with me and other students in the private student community!

See what other students have to say about The Ergonomic Speed Knitting Method:
"Best course ever! I initially learned to knit using the English method which was okay but not that enjoyable and took forever to make something. I found the Yay for Yarn site by accident and happened to see the ergonomic method video. It peaked my interest so I enrolled in the course and I'm so happy I did! Her demonstrations were clear, easy to follow, and she went over everything a few times (which was helpful). After some practice (making quite a few dishcloths), I found that I can not only knit faster but I can knit for longer and without hand pain! Knitting is so much more enjoyable for me now. Thank you Brianna!"
- Julie
"I'm so glad I found this course. It is the only thing like it on the net. I took the plunge because of pain from tendonitis and finally I can now knit again. It takes determination and I REALLY recommend you take her advice about knitting swatches. I am still finding myself hunching my shoulders or grabbing my needles too tightly but I keep re-watching the videos and adjusting and improving my technique. I just had a lovely Sunday knitting on and off all day, which I thought was a thing of the past, and I'm not even finished the course. Yay for yarn gets a huge yay and thank you from me."
- Rhaya J.

Now that I've created my own, super-ergonomic knitting style, I can knit for much longer periods of time without my hands feeling stiff and tired.
If your hands are constantly getting tired and stiff after every knitting session, The Ergonomic Speed Knitting Method might be just what you need to make your knitting comfortable again.
A Note About Hand Strain
This method is designed to minimize the hand strain and tiredness from lots of repetitive motion in the hands and wrists.
It is also designed to be customize-able, so you can adapt the method to compensate for any issues you may have with one or both hands or wrists.
However, if you are having problems with hand or wrist injury, or if you have a painful condition in your hands, please consult your doctor. This method is not intended to treat or cure any injury or condition.
It IS designed to make knitting easier on your hands, and to avoid putting strain and tension on the hand and wrists. However, every knitter is a little different, so if there is anything about this method that doesn't quite work for you, I am happy to help you adapt the technique to work best for you.
So, what makes The Ergonomic Speed Knitting Method different from other knitting styles?
"The ergonomic speed knitting course has relieved my hatred of purling and the rib stitch! I couldn't stand how long it took to switch from knit to purl. The old way made knitting feel like a chore. Now ALL knitting is smooth and swift. I hardly have to concentrate. I have knitted a cardigan and a sweater in about two weeks! I highly recommend this course to anybody who can't stand to purl!"
- Tina R.
"Thank you so much for your course on Ergonomic Speed Knitting. I had a feeling that it would be a good buy, and I was right! Although I have a long way to go, I am making progress and am in love with your method." "Also, I have an injury to the 2nd joint on my right thumb, as well as a touch of arthritis when I overdo things. I feel that your method will allow me to enjoy knitting for a long time to come. I'm taking my time and just enjoying knitting. Every day, I feel more comfortable and am picking up speed. So, thank you!"
- Donna S.
To view all of the reviews from previous students of this course, click here.
FAQs


Who is this course for?
The Ergonomic Speed Knitting Method is for someone who is already familiar with basic knitting techniques, and would like to change the motions they are using to be more ergonomic.
I am a beginner. Can I use this course to learn how to knit?
If you are a brand-new beginner, and would like to get started knitting with the Ergonomic Speed Knitting Method, you will need some extra teaching outside of this course to get a good grasp on knitting as a craft. Just send me a quick email, and I can point you to resources that can help!
Can this method work for both right- and left-handed knitters?
Yes! With this knitting method, both hands use sliding motions to make the stitches, so it doesn't matter if you are left- or right-handed. If you would prefer to have one hand doing most of the work, the technique can easily be adapted for this.
Our Guarantee
Every Knitter is different. I can't promise that this method will work for everyone, but I can promise that if you have any questions, or if you would like help adapting the technique to work better for you, I will always be happy to help!