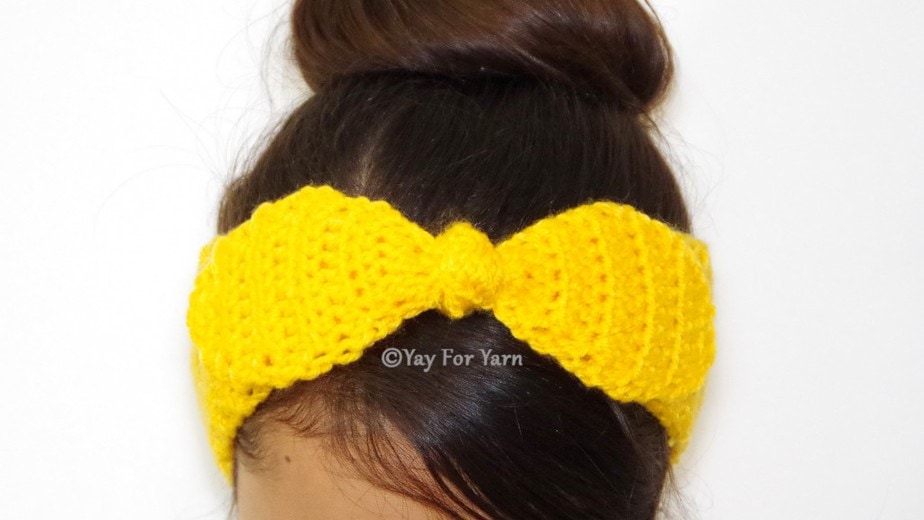 Knotted Bow Headband
PDF Crochet Pattern & Video Tutorial
$1.99 USD
This sweet, yet simple headband is quick and easy to crochet! Make it in a lightweight yarn for a feminine summer hair accessory, or make it in a thicker yarn for a chunky winter earwarmer.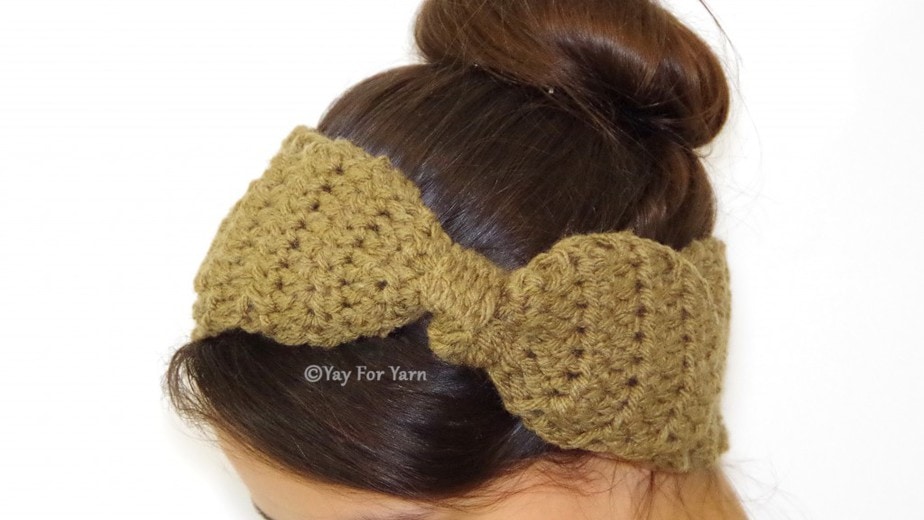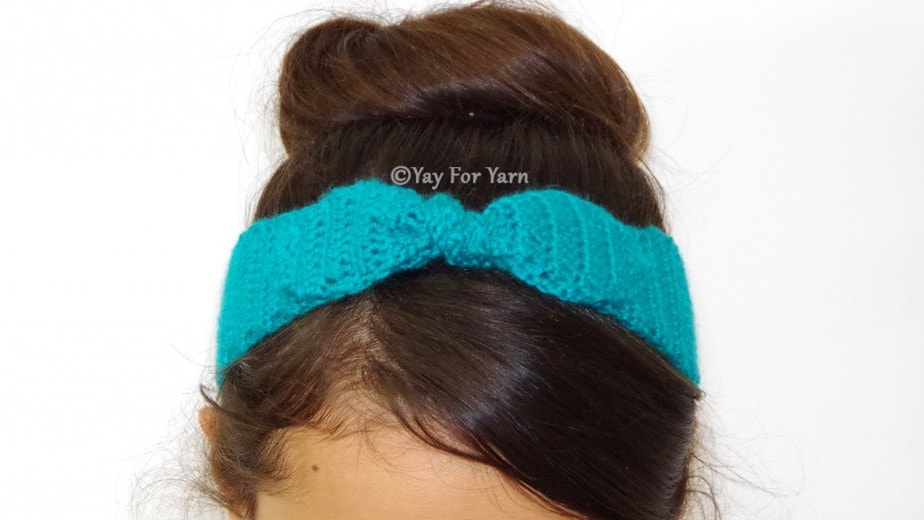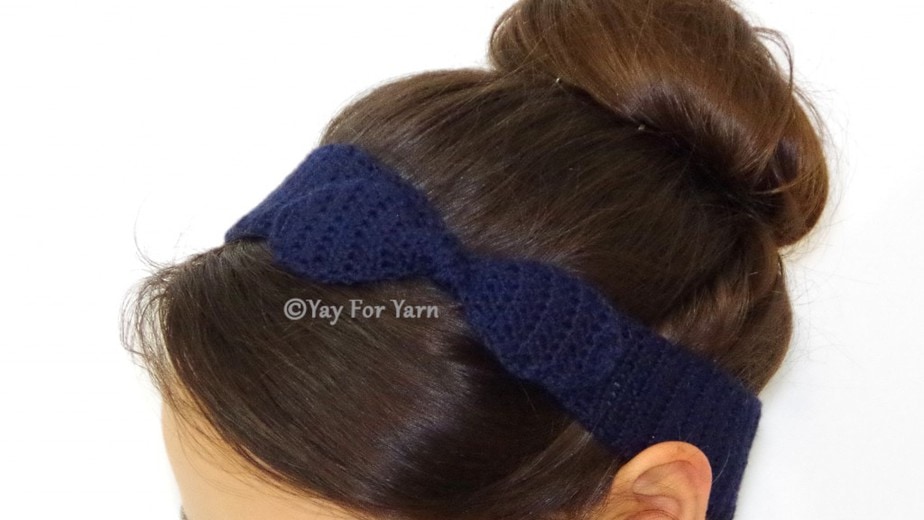 Skill Level: Advanced Beginner
Please note that this is a Large-Print, Ad-Free, Printable PDF version of a pattern that can be viewed for free, with ads, on my blog. For the free version, click here. Thanks for supporting YayForYarn!
This pattern can be worked in any size, at any gauge, with any yarn weight.
I recommend using thinner yarn for a spring and summer headband. If you want a thicker, wider, earwarmer headband for the fall and winter, use a thicker yarn.
The thicker the yarn you are using, the larger the bow will be.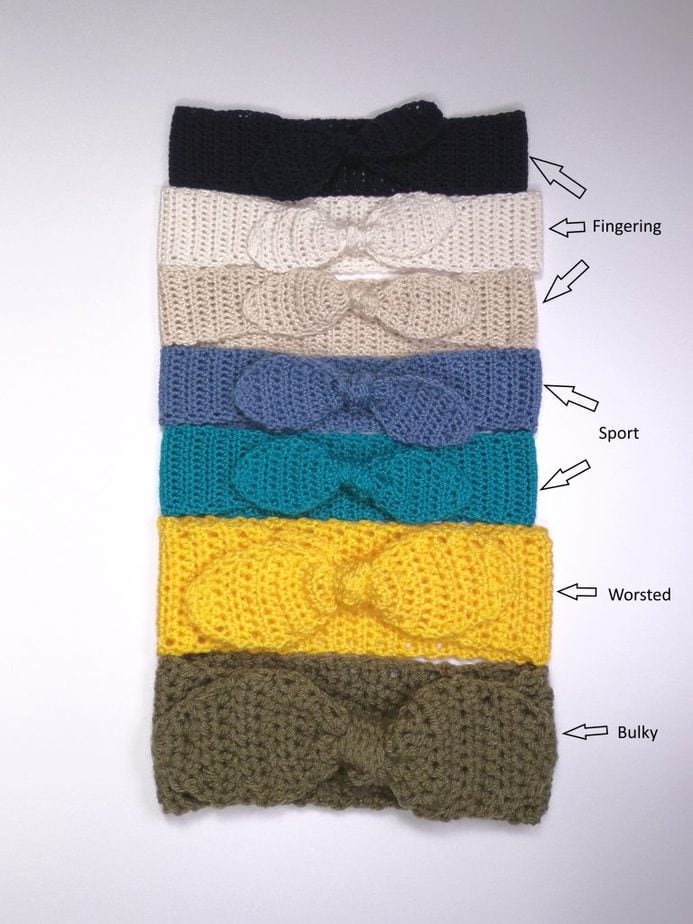 Sizing:
This headband is custom fit. If you can, measure the recipient's head circumference. You will be using this measurement to make the headband the correct length. When instructions tell you to measure the headband, stretch the headband a bit while measuring. This causes the finished headband to be a little smaller than the head, so it stretches a little to comfortably stay on the head. The finished headband can also be adjusted by tying it tighter or looser around the head. If you don't want the headband to stretch around the head, don't stretch the headband while measuring.
If you cannot measure the recipient's head, here are the standard head circumference guidelines according to the Craft Yarn Council:
Preemie: 9"-12" (23-30.5 cm) 
Baby: 14"-16" (35.5-40.5 cm) 
Toddler: 16"-18" (40.5-46 cm) 
Child: 18"-20" (45.5-51 cm) 
Tween: 20"-22" (51-56 cm) 
Woman: 21"-23" (53-58.5 cm)


You Will Need:
Yarn of your choice (amount will vary by headband size and thickness of yarn) 
Crochet Hook in a size appropriate for the yarn you are using 
4 Split-ring or Locking Stitch Markers (safety pins will also work) 
Piece of Cardboard that is half as long as the head circumference (to tie the headband around if you cannot tie it around the recipient's head)
Scissors
Measuring Tape
Yarn Needle or Blunt Tapestry Needle
How Do I Access the Pattern?
As soon as your purchase is complete, you'll be able to access and download the PDF file for this pattern, and view the full video tutorial, ad-free, inside your Yay For Yarn Library.
Ready to Get Started?
Download the Knotted Bow Headband PDF Crochet Pattern